Atharva Nature Healthcare
Atharva Nature Healthcare Pvt. Ltd., formerly known as BSDTs Atharva Ayurved Pharmaceuticals, was established in 2002. Our Company is a well managed firm engaged in Manufacturing and Exporting Pure & Authentic Ayurvedic Products. Leveraging on the facilities and understanding of Ayurveda, we offer a vast assortment of Herbal Products that includes Chyawanprash, Rose Petal Jam-Gulkand, Atharva Rose Petal Face Pack, Atharva Shatavari Kalpa, Digest Plus Churna, Atharva Head Massage Oil, Neem Oil, Dashmool Oil, Massage Oil Vata for joints and many more. Our Herbal products are formulated on the basis of the knowledge attained through years of research and experimentation. We prepare formulations & further manufacture them in bulk at our well-equipped GMP Certified Manufacturing Unit. We are also collaborating with an Ayurved Hospital & Research Center that guides us to use the ancient knowledge of Herbs & convert them into palatable Herbal Products for usage.
We are committed to diversity in a working environment where there is mutual trust and respect and where everyone feels responsible for the performance and reputation of our company.
Since its inception, our Company has focused on developing safe, natural and innovative Herbal Products with the help of Authentic Scientific Procedures and Modern Equipments that will help people lead richer, healthier lives.
We are also collaborated with an Ayurved Hospital & Research Center that guides us to use the ancient knowledge of Herbs & convert them into palatable Herbal Products for usage.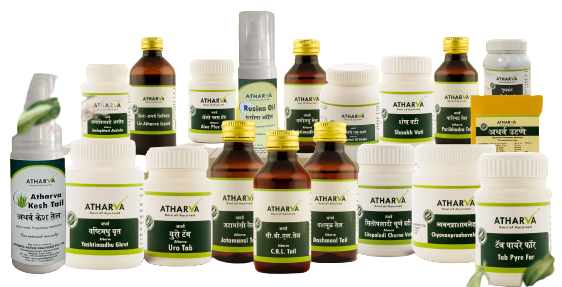 Ayurvedic Herbal Products
Testimonials
I have been using oils, medicines and medicinal products from Atharva Healthcaresince 2009.I am extremely impressed by the quality of all the products. The oils are much thicker thanoils from other companies. I have had a tour of the pharmacy garden and facilities and can vouch for the care, cleanliness and quality of the ingredients and the processing facility. I highly recommend any of the products from Atharva Healthcare.
My wife and I have been patients at the BSDT panchakarma clinic several times starting in 2009. Since that time we have had multiple experiences with Atharva Healthcare both as panchakarma patients and as importers of their therapeutic oils, spices and medicines into Canada for our own use and for other clients of Dr. S. P. Sardeshmukh . During this time we have been very satisfied and impressed with the purity and extremely high quality of all the products we have used. We are also aware of the pharmacy's strict quality control procedures and adherence to traditional classical Ayurvedic principles in the growing and processing of the ingredients used in their therapeutic oils, spices and medicines.
Ten years ago, I started feeling that stress, exhaustion, unhealthy lifestyle, and aging were all taking a huge toll on my mind and body. I told myself that, if I still wanted to perform my best as a parent, a wife, and a businesswoman, I had to immediately change my routine. This included actively engaging in exercise, a healthier diet, and taking quality health supplements. From then on, I became passionate about health. I became enthusiastic in everything that naturally promotes our well-being. In my continuous advocacy to find products that improve health and quality of life, I came across Atharva. They introduced us to their products and were transparent enough to walk us through their production process. It was momentous. In Atharva, I found more people like me. Like us at Beaulife Inc., they do not compromise on quality and are passionate in promoting health in a natural way. We especially like their head massage oil. We use it to help us relax and sleep better. Countless benefits arise the next day when our attitude, outlook, demeanor, energy, and enthusiasm all take a positive turn – simply because we got to relax the day before. Before we knew it, this product has become part of our daily regimen. We hope that our partnership with Atharva towards health and uncompromising quality continue on for many more years.
For product related & other queries